With all the buzz about eyebrows, let's not forget what they frame- the eyes.
Do you spend precious time each day trying to get the perfect application of your eyeliner only to have it smudge by mid-morning? Do your eyes water, itch or turn red and become irritated from makeup? Do you have difficulty seeing without your glasses to apply your eyeliner? Do you live an active lifestyle but still want to look great at all times? If you answered yes to any of these questions, permanent eyeliner is the perfect solution.
Permanent eyeliner not only looks fabulous every day, it is also a great time saver. You can face the day with confidence or get up and go out without feeling bare faced even if you don't apply any other makeup. It's especially an added bonus if you already have great permanent brows. We call it wash and wear!
Permanent eyeliner eliminates smudging and sensitivity issues. No more irritation, redness or itching.
Enjoy your outdoor activities, including swimming, running, sweating and never worry about your eyeliner running down your cheeks or looking like a raccoon. Be the girl who looks fabulous at the pool or camping!
Save time and money on makeup with permanent eyeliner.
Eyeliner, whether it be subtle or bold, demure or dramatic, enhances every woman's eyes. It can be an expression of personal style, glamorous, or extremely natural. Styles of eyeliner are as varied as any other form of makeup and can be tons of fun. So how do you choose your look?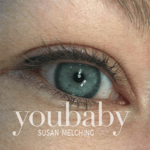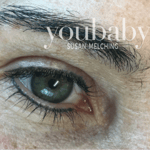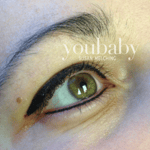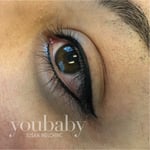 Eye Shape
Your eyeliner should compliment the shape of your eyes. Just like eyebrows, eyes are sisters, not twins. Often, one eye is larger than the other, slightly higher or lower, and possibly a different shape. Permanent eyeliner, in the hands of a skilled artist, can camouflage asymmetry and create the illusion of symmetry.
Age Appropriate
Go for a look that gives you a fresh, youthful appearance without looking like you are competing with your teenage daughter. Choosing the right eyeliner shape can give you your confidence back!
Lifestyle
Choose an eyeliner style that reflects your day to day living. How much makeup do you wear every day? Are you extremely active and/or enjoy outdoor sports and activities? Do you prefer the natural- minimal makeup look? Do you dress up or go casual every day? Are there any cultural or religious mores you would like to honor?
At youbaby Skin Spa, we help you decide what look best suits you. Bottom line – choose a style that you will feel comfortable in 24/7.
You can always add a little embellishment for special occasions or outfits.
See some of our before and after eyeliner photos. Your look can be as individual as you!