Removal can be life changing!.
GETTING RID OF A NAME YOU WOULD RATHER FORGET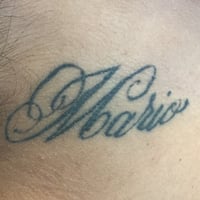 Many people got a tattoo of a significant other's name somewhere on their body, knowing that they would be together forever. And then something happens and they part ways. Nobody wants to keep the name of a previous love on their body as a constant reminder of what went wrong, or the one who got away. Getting that name removed will help you move on with your life!
OUT-OF-DATE INK
We have seen several people who find that their tattoo is no longer relevant. Maybe it was because their interests have changed, or it no longer suits their current situation. No matter the case, with advanced laser technology you can get that out-of-date ink taken care of!
WORK BY A TATTOO ARTIST WHO DOESN'T DESERVE THE NAME "ARTIST"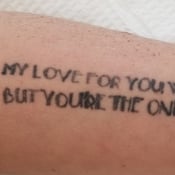 We've heard some stories from people who let a-friend-with-a-tattoo-gun "practice" on them. Or the bad tattoo from a tattoo artist that should probably be looking for a different career. Maybe a misspelled word, or just poor and sloppy work. You don't want to keep a tattoo on you that you are embarrassed about, and we can help!
FAMILY MATTERS
We have seen people who want to have their tattoo removed because they have
settled down and started a family. Some young parents don't want their kids to do the same things they did and want their tattoo removed before having to explain it to their children. Also, there are those starting a new career where they feel they may be judged for their tattoos; we can help with that too! We don't judge.
MOVING ON
There is a reason that you chose the tattoo that you did. Maybe your reasons for having that tattoo are no longer valid. Maybe it was sentimental at one time, but now you feel it is a constant daily reminder and you are ready to move on with your life. Your tattoo doesn't need to be a daily reminder or hold you back. When you're ready, we can help move on by getting rid of that constant reminder.
DISTORTION
What looked great at 17 doesn't look so good now at 37. And, who knows what it will look like by 77! As time goes by tattoo may look totally different than when you got it. It might have stretched or sagged. Could be the fine lines are now just blurry blobs. We know you don't have to live with a distorted tattoo.
BREAK UP THAT MAKEUP
Permanent eyebrows are a great idea when they're done well — natural-looking and time-saving. However, trends do change, and what was fashionable just a few years ago isn't as fashionable now. And, technique is another issue. We've seen our share of bad eyebrow work by inexperienced and minimally trained techs, and the subsequent lament that follows getting a bad makeup job. Stop beating yourself up and let youbaby Skin Spa help.
TAKE A RING OFF IT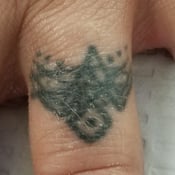 Did you forgo the wedding band for a tattoo instead? Is it time to get it removed? Perhaps you have writing on your fingers that is no longer relevant, we can remove that too? Knuckle tattoos make it very difficult to get specific jobs, don't let your tattoos get in the way of who you want to be.
GOING LEGIT
Questionable choices you made in your youth doesn't have to be a constant reminder of those darker days. Whether you were part of a group where you were branded with a very visible tattoo, or you had an image you used to portray and now you want it removed, we can get your tattoo removal process going.
CHANGE IS GOOD
Sometimes you just need a change. This is not to say that all tattoos are something that should go away, just the ones that no longer serve you. We believe that you should celebrate the tattoos you love but get rid of the ones you don't. We're here to help!