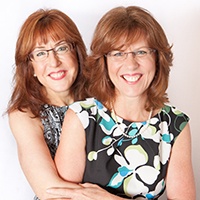 The first thing you will undoubtedly notice about Susan Melching and Nina Smith is their beautiful, radiant skin, and the fact that they both look years younger than their actual ages. The second thing might be that they look an awful lot alike. And, there's a reason for that: Susan and Nina are sisters! Sisters blessed with gorgeous skin, natural beauty, dedication and talent, and a whole lot of business savvy.
Becoming business partners was a dream Susan and Nina had for years. In a rather beautiful way, the "story" of how that came to be mirrors the mission and passion that defines youbaby.
youbaby is all about rejuvenation and about helping our clients showcase their natural beauty. Over the course of their careers – Susan as a renowned aesthetician in Boulder and Nina as a talented marketer for AT&T – both women have experienced ups and downs, just like anyone. But, it was a series of some of those downs that brought the sisters together in a surprising and uplifting way.
In 2002 Susan experienced a harrowing experience when a drunk driver drove into the building where her Boulder clinic was located. Thankfully, no one was seriously injured, but the financial impact was significant. For years she battled with insurance companies, but restitution was never fully achieved.
Meanwhile, Nina was struggling in a successful and financially rewarding career that left her feeling unfulfilled.
Sadly, in 2011, Nina's husband became suddenly and gravely ill. This was the impetus to leave her job and care for him full time. She packed up moved to Colorado to be closer to Susan and better health care services for her husband.
Nina bought a house in Boulder County that was fully equipped and accessible to accommodate her husband's medical and physical needs. Unfortunately, her husband's condition worsened and he passed away in late 2012.
Rather than sell the house, the timing was such that Susan and Nina's elderly mother now needed assistance. The sisters moved her into Nina's home and together cared for her until she passed in October 2016. These events demonstrated how precious time and life is, too precious to waste in an unfulfilling career. Nina used this time to completely change careers and to begin training in laser technology and tattoo removal, something that her sister was passionate about. Turned out talent runs in the family; she was a natural at it!
These were, of course, BIG LIFE EVENTS, events that would lead anyone to question and reevaluate where they were in their lives. In 2015, the sisters were individually at crossroads. But, luckily, as is sometimes the way, out of turmoil, those roads converged in the happiest of ways!
Whether happenstance, kismet, stars aligning, or simple circumstance, Susan and Nina took advantage of the place they found themselves, both ready for a change, both with a renewed sense of purpose and determination to live life for the NOW, do what you love, and seize the opportunity to work together. Their experiences had taught them that renewal was possible, that life changes us – both inside and out – but that there is ALWAYS opportunity to better one's self and to live a truly engaged life as your best self.
Whether it's a treatment focused on combating the signs of aging or a permanent makeup application or the removal of a tattoo, youbaby is the manifestation of the sisters' belief in the possibility of renewal.
As youbaby opens its doors, what is renewed is not only the skin and beauty of their clients but the rejuvenated lives of both Susan and Nina!